Having a digital caricaturist on your exhibition stand is the most incredible way to drive traffic to your stand. See Explainer Video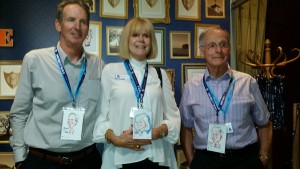 Every kind of conceivable freebie has been touted at exhibitions over the years but none have come close to the attraction that an iPad caricaturist has. Most freebies do very little to enhance your company profile because most of them are cheap and fall apart within days. To find a quality freebie that clients not only want to keep but can keep for years to come is difficult without a great deal of costs and worst still wastage.
A digital caricature ticks all the right boxes. It's unique. It's entertaining. It's branded. It's of great quality. It works well with social media. It gets displayed all around the exhibition and social media with your branding. Best of all it enhances your corporate image.
The large screen attracts the customers in. They take five to eight minutes to sit with the artist during which time you get to chat. We record their email address, which is great for data collection and meets all GDPR regs because they will definitely want to opt in to receive their emailed caricature post event.
Having the most popular freebie brings a lot of attention. Who knows you might even win "Best Stand" because of it like Jolyon Marshall at Jolyon Marshall Ltd. recruitment agency for the jewellery trade. He'd been trying to win it for many years.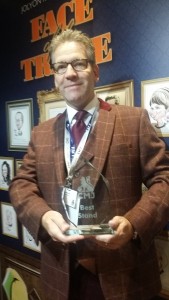 Rick's style is extremely complimentary so no need to worry about insulted clients. See my work at previous events here Events Gallery
1 Minute Video: Meet Rick talking about exhibition work.  
Here's what Rachael Moore thought about having Rick on their Canvas stand at #Bett2018 this year.