Live Events
Trade Show Caricatures
For all your corporate events such as, Trade Show Caricatures, Exhibition Caricatures, Conference Caricatures, Corporate Events, Product Launches, Bat Mitzvah, Bar Mitzvah, Weddings, Birthdays and Anniversary Caricatures.
Caricatures live on the Big Display Screen (See video below)

or

Mix and mingle with your guests
Call now: 07929754642
Why hire Rick?
Rick is a highly experienced (27 years) caricaturist for hire, who works exclusively in digital format on the iPad Pro mixing and mingling with your guests or linked to his 55" display screen at your wedding, barmitzvah, party, exhibition or corporate event, trade show. He also produces digital caricature paintings from photos sent by email. Rick works at every kind of corporate function, exhibitions, conferences, trade shows, and product launches but If you have other cartoon work in mind do call or fill in the enquiry form.
Mix & Mingle

Digital Caricaturist Rick wandering among your guests drawing full colour or mono caricatures on the iPad. Quick, humorous caricatures. With Eco Friendly Airdrop delivery of each caricature. 6x4 pocket sized prints are available on request. His complimentary style makes it ideal for Weddings, Bat or Bar Mitzvahs, corporate events, dinners, conferences, Trade Shows.
Display Screen
Digital caricaturist Rick drawing full colour or mono caricatures on the iPad linked to his 55" TV display that will ensure the entertainment reaches all of your guests. Watch mesmerising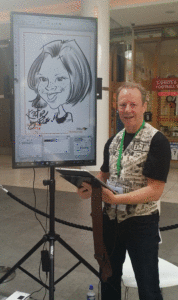 caricatures as they come to life in real time on the display screen. Brilliant crowd puller for your trade or exhibition stand, and his complimentary style makes it fantastic entertainment at parties, weddings, corporate events, conferences. We prefer to offer Eco Friendly airdrop or email delivery of your caricatures but if you prefer we can offer full colour 6x4 prints.
Rick with 55" TV display and stand.
Rick's complimentary caricature style is perfect for
Trade Shows, Exhibitions, Conferences 
From photos
Order a caricatures from a photo
Digital caricatures produced from photos make great gifts, for birthdays, retirement, anniversaries, weddings. Include as many people or items as you wish to personalise your gift. Use the contact form below, describing your desired layout and content, to get a quote. You can chose to receive a digital file and source the printing yourself or order high quality digital prints, and frames too. See From Photos for more info or use the Contact form below.