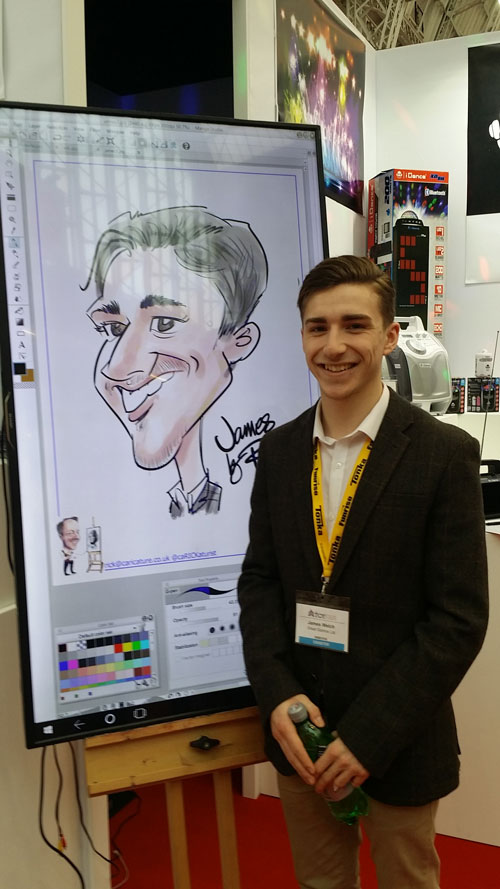 Digital iPad caricatures drawn live on screen at your event. 
Most people will have experienced a traditional pen on paper caricaturist at an event or seaside resort. Digital brings the art into the 21st century and because it's digital the possibilities are endless. The most striking difference is increased audience reach because each caricature can seen appearing in real time on the big screen.
Why Digital? Digital caricaturing is much more suitable to corporate work than pen on paper because the picture is in digital format it's instantly usable for all social and digital media.
"But I'd like my guests to take something away with them...."
They will! I instantly print a 6x4inch colour print for them to take away and it's fits neatly into a pocket. They'll also get an emailed copy too.
With iPad and screen all of your guests will be entertained not just one person at a time because they can watch the drawings as they're done live on the screen. The caricature is in full colour, not practical with pen on paper. As I've mentioned your guest can still take something away with them because they can have a full colour print that slips easily into their pocket or into their ID wallet and lanyard to display around their necks.
A digital caricature, more importantly, can be circulated on social media immediately, with Twitter event hash tags, uploaded to Facebook, Instagram and all other platforms. There really is no limit to the possibilities including bespoke templates designed to your theme that carry all your company information.
Scroll down to see some iPad caricatures and photos from iPad and screen events or click on the link to watch a short video
Animation demo or quick movie showing Rick drawing live Rick drawing live