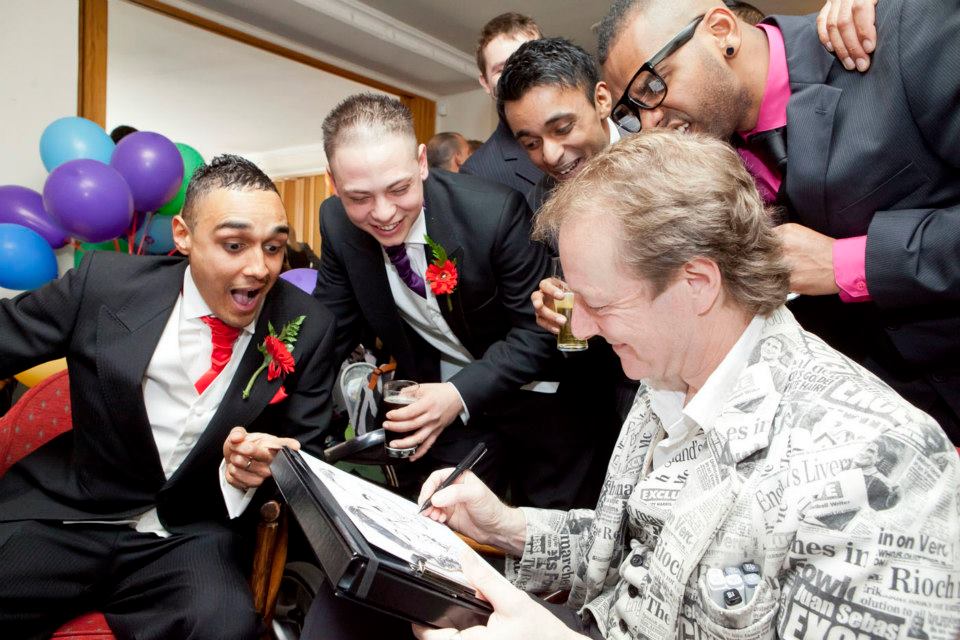 The best entertainment ever at a wedding, barmitzvah or indeed any party or private function where you want to inject an extra element of fun and something a little bit different!
Free caricatures for your guests to keep as a unique memento of the occasion – and fantastic fun too. Keep the children entertained with caricatures drawn to their request. Entertain your guests whilst the photos are being taken, or between the afternoon and evening session.
Complimentary style to keep your guests smiling
With his wealth of experience, Rick has developed a unique style of complimentary caricature art – assuming that you don't want to offend your guests! This provides entertainment for all ages, from babies (yes, babies!) to senior citizens, and provides a fantastic unique caricature gift for your guests.
Rick now works digitally on the iPad and not with pen and paper. He can mix and mingle with your guests as before but instead of carrying around a sheet of paper for the evening your guests will receive a 6x4 inch colour print immediately, fitting neatly into their pocket or handbag, and will also receive an emailed copy of the caricature. You, as the client, will also receive a copy of every picture drawn - a wonderful memento for yourselves and your guests. Included in the price is a customised template commemorating the occasion.
Hi Rick, I just wanted to say thank you very much - my sister organised for you to come to my hen do earlier this year at Floridita in London, and we had a great time. Everyone thought the caricatures were great and we really enjoyed it - it wasn't at all what I expected so it was a really nice surprise. It took me a while to find you online but I thought I should write and say thanks! I will recommend you to anyone looking for a caricaturist!
Naomei London

 Rick, Many thanks for the excellent caricatures which you drew at our party on the 5th. You worked so hard all evening and we were amazed by how many of our guests you were able to draw. Everyone thoroughly enjoyed watching you work and you really drew a crowd – in every sense! Everyone was delighted with their caricatures, which are lovely mementos of the day and are now taking pride of place on walls of homes up and down the country! Many thanks again
Melanie Denley London

A short email to express our gratitude for helping to make our wedding an amazing experience. Right from day one of booking you filled us with confidence due to your professionalism , attention to detail and helpful / friendly attitude. The day itself ran like clockwork. Our guests were raving about you and the exceptional drawings
Kerry and Natasha London