Now I can honestly say I've performed at the Albert Hall. Okay so there was no audience beyond the 200 staff guests attending their annual summer party but hey who's counting? The interior is stunning as most people know and designed rather like a circus ring with a stage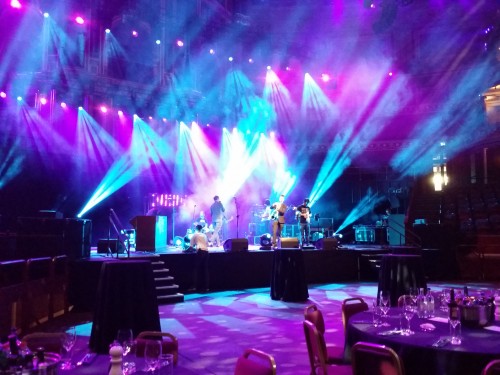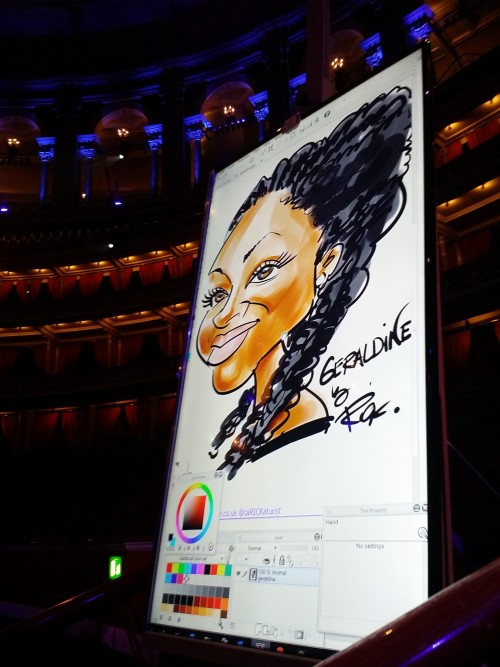 at one side.
I was set up around the edge with my screen elevated and positioned in a little nook where for once no body could trip over it or poke the screen in an attempt to get it to react. Another bonus was that the reception drinks were taking place in the same area which meat I didn't have to detach from my screen and go walkabout. I simply grabbed the unfashionably early arrival and his caricature appearing live on screen attracted the subsequent arrivals to come and watch me draw.
For some twenty years myself and all my fellow caricaturists have endured the repeated comments and questions that inevitably get spoken. Since mostly doing iPad work those comments have changed, not the jokes of course, but the queries. 'Is that the new iPad?' 'I can't even sign my name on one of those' 'I went to an exhibition where a bloke had been painting on one of those, can't remember his name.' 'Oh, it's appearing on the screen!' 'What software is that?' 'Do you take a photo then just add in bits?' 'Are you actually drawing that or is it the software?'
Once reception drinks were over and the guests were asked to find their seats I found my queue hadn't diminished at all. There were still around 7 people queuing despite repeated requests from the client to get them to sit down. They did eventually get the message and managed to come and sit reasonably orderly throughout the meal.
Printing the caricatures our immediately and emailing later works best for me because it gives the guest something to take away and treasure with excitement of receiving their digital copy later on. You can always tell which table the sitter is from by the laughter and raucous comments from there.