As befitting a blue chip company such as EY the Lancaster Hotel was the chosen venue for this winter wonderland themed xmas party.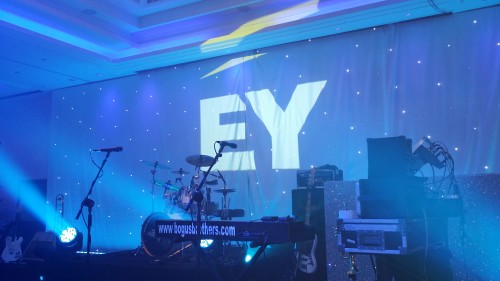 I was booked as an iPad caricaturist but a last minute change of heart by the client returned me to the more traditional pen on paper method. A mistake I think because working alongside me was George Williams, a fellow caricaturist with a completely contrasting traditional pen on paper style, so their argument about people wanting to be able to take something home with them would be satisfied by him anyway. However it's not a valid argument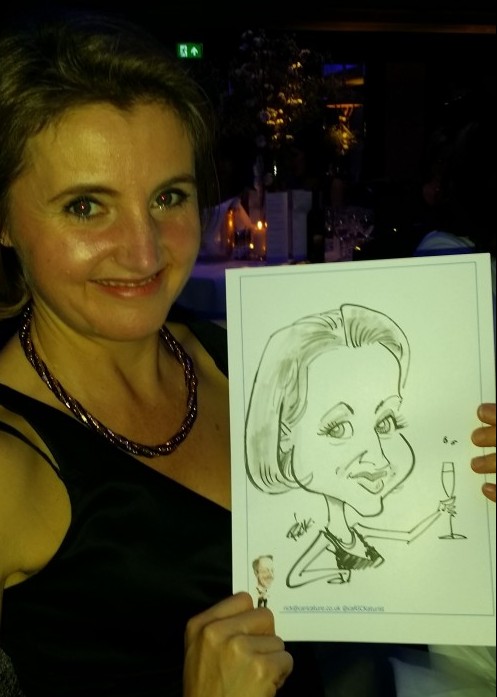 anyway because you could argue that with iPad caricatures you get even more to take home with you, there's the colour caricature which is emailed to your phone immediately and you can also have a 6x4" colour photo which fits very easily into a pocket, unlike an  A4 drawing which can't be folded without being ruined and especially not an A3 (apologies George! No matter how good they are).
However, pen on paper it was and our contrasting styles did complement each other as George directed the women, who he felt might not be able to appreciate his style of caricaturing, over to me, which meant he didn't have to turn them down flat, and they got a complimentary caricature which some people prefer. It's not only some females who are sensitive in this way of course there are just as any men but they're not as honest about the reasons. Those that do appreciate good caricature love George's work as he's a real exponent of the art.
So it is important to chose your entertainment carefully and appropriately. The best way to hire an entertainer is to go direct. A quick search on Google will find you plenty of options. Speaking directly to the person you want to hire will tell you a lot about who you are hiring and if the way they like to work really suits your event. By speaking directly you can chose someone with right amount of experience and although they may appear more expensive they won't cost you as much as an inexperienced or poor artist through an agency. Once you've selected the right person take advantage of that experience. Ask them how best to utilize their talent at your event. They will know what works well and what doesn't - freeing you to do what you're good at.