One of the pleasures of working with the iPad and screen at events is that it reduces the pressure created by the client to get as many people drawn as possible. Everybody wants value for money and the clients interpret that as 'how many can you draw?' Never mind, how good you are or how entertaining you are. It's the caricaturist's industry's own fault for showing off and boasting about it. The problem with working around dinner tables is that the only moment of entertainment is the big reveal at the end and this puts pressure on the artist to produce as many of those as possible. Hence the need for speed. The screen changes all that.
At the NeoPost Gala dinner held at the Forest of Arden Country Club, Birmingham, I was set up to one side of the stage with my screen. I would say that pretty much all of the tables to my side of the room could watch my screen and enjoy seeing their colleagues caricatures appearing line by line. The viewing is only restricted by the size of screen. At this venue they had a roll down screen which was being utilized to give a slide show but that screen was large enough that every table in the room could view it.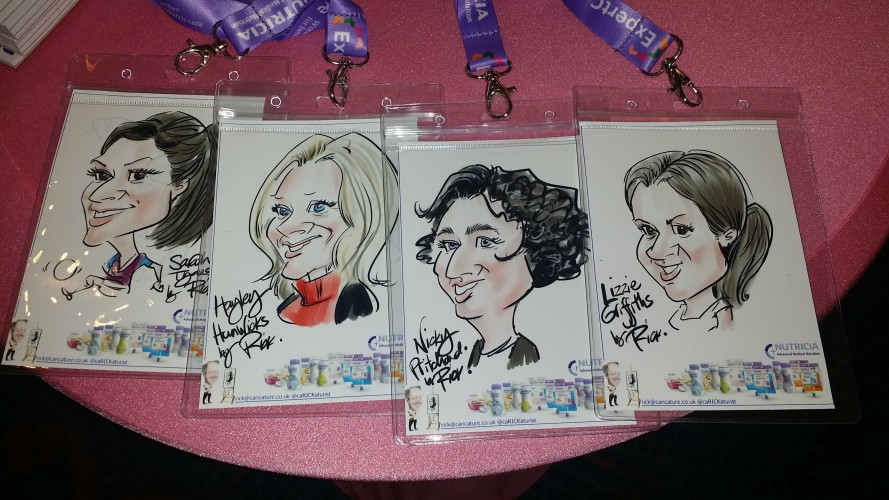 The benefits of iPad caricatures over traditional pen on paper don't end there. Clients often say, 'But I want them to have something to take away' Well the answer to that is they do. A 6x4 colour print which slips easily into their pocket by the way. In addition to that the picture is emailed to them. The client gets a copy of all the caricatures after the event or cc'd to them during the event but most importantly so many more of the guests have been entertained and isn't that the point?