Situated in Grove near Oxford the home of Williams Racing has a less Space Age but greater homely feel to it than Mclaren. They've certainly enjoyed a more successful season than their high tech rivals. Money doesn't guarantee success - ask Roman Abramavich.
The staff and their families were all very complimentary about the firm many of them have been with all their working lives a rare accolade. I was set up to draw the guests on the iPad whilst connected to my monitor so that those either standing around or indeed queuing can watch me drawing live.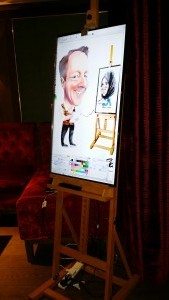 This set up is perfect for this kind of event where the venue is packed when simply drawing on a sheet of paper can go totally unnoticed and be ineffectual. Another great benefit is only having a 6x4 sized print to carry around which slips into your pocket neatly. Of course the colour caricature is also emailed to the guest's phone which is handy for sharing immediately on social media or as I'm so often told to become the guest's new profile picture.
Not only do the guests get hard and soft copies of their iPad caricatures but it's a simple matter to copy in the client or upload all the pictures to the cloud for them to access at a later stage. The possibilities for use of digital artwork is endless.